Food HUB 405 creates a gathering place around new phases of food production, celebrating a more sustai nable and green future. By transforming and giving it a new function to the old warehouse, together with a small scaled housing complex, the historical values of the old structure are kept, whilst a new vital part of the city is created.
Food has throughout history always gathered us. Food defines who we are and where we come from. The need of food is one of the reasons why humans have been travelling around the world and exploring new territories. 
PROGRAMMATIC CONCEPT.
Magasin 405 was build in 1945 and has been functioning as a warehouse for imported food from around the world - coffee, oranges, nuts, etc. During Christmas, the smell of dates, almonds, raisins, figs filled Magasin 405. With our proposal we want to bring back those scents of food and make people gather, get inspired and explore different food and cultures.We think the demand of locally produced food and the knowledge of how our daily groceries are made is a growing trend. 
With this project, we've striven to approach a programmatic solution that gives answers to those demands by putting the whole food cycle under the same roof - farming, processing, selling, consuming, composting and back to farming. We call our transformation of Magasin 405 "Food Hub 405".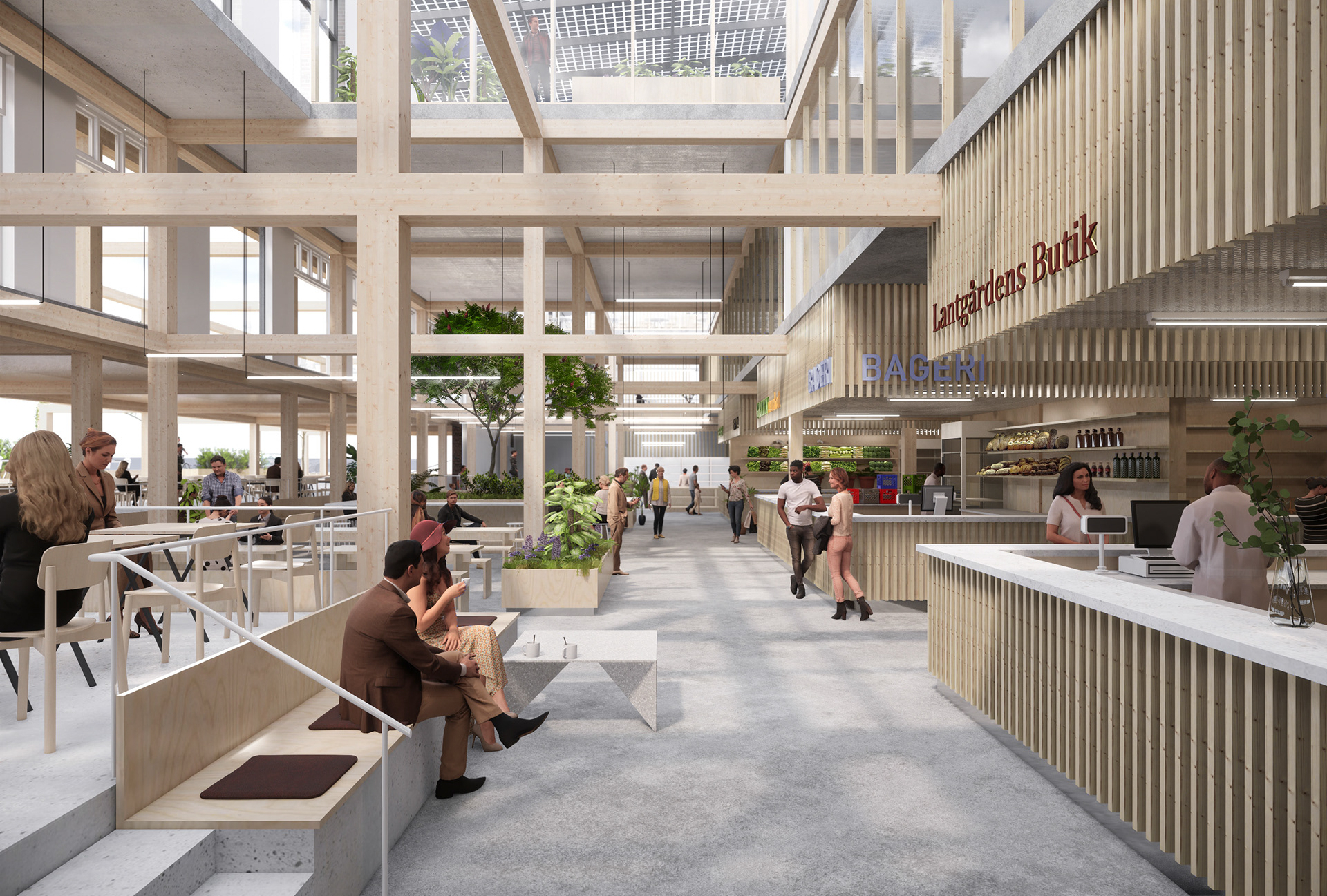 ARCHITECTURAL CONCEPT.
The transformation of the warehouse is subtle but brings new life to an old functional structure. We want to keep the concrete pillar grid, which gives Magasin 405 its character. However, since we open up parts of the floor we've decid to replace some of the concrete pillars and add a wooden structure to give the inside a warm and Nordic atmosphere. The wooden cubic structure is also used outside and gives the design character for the new entrance at the quay and also the housing at the back of Magasin 405.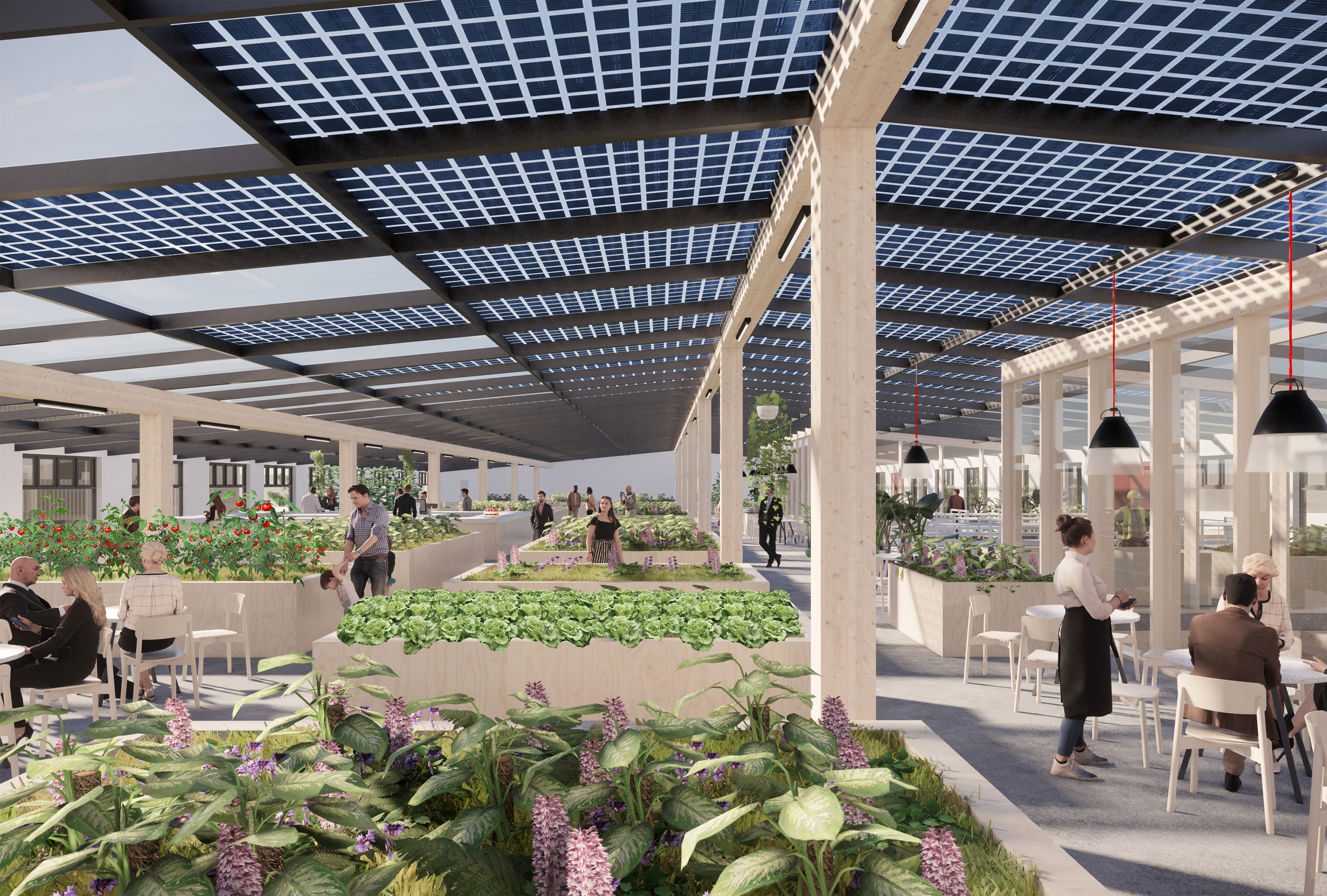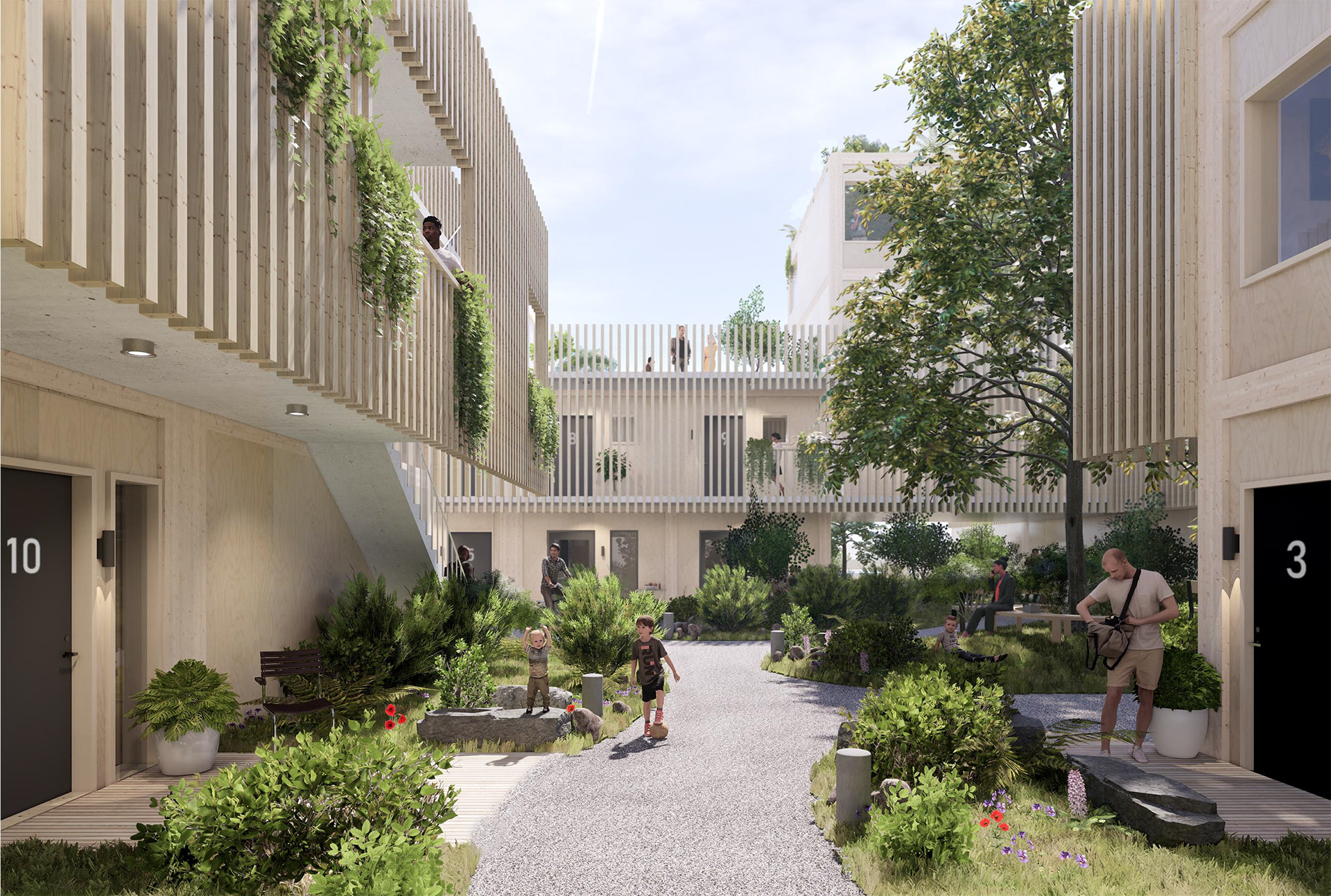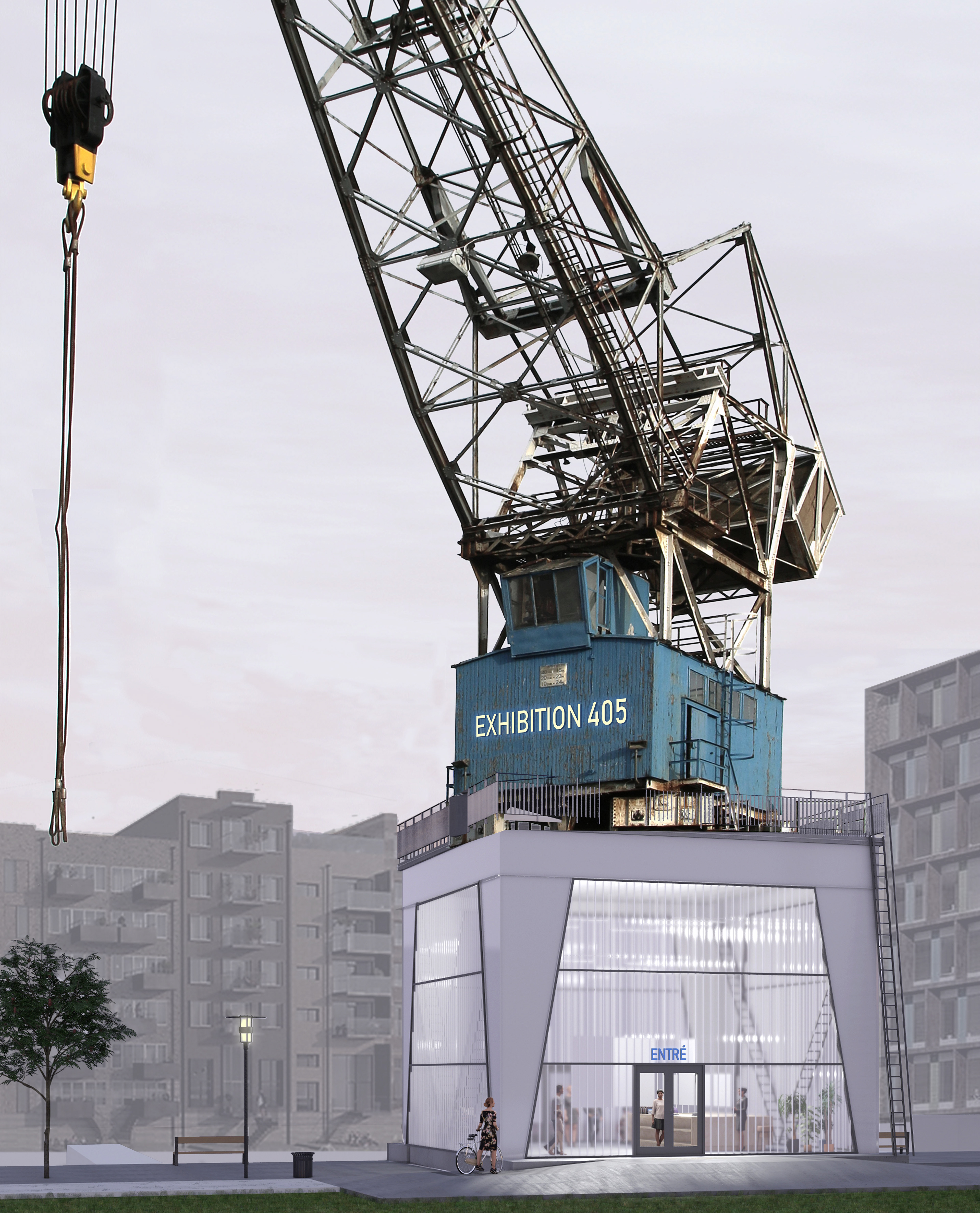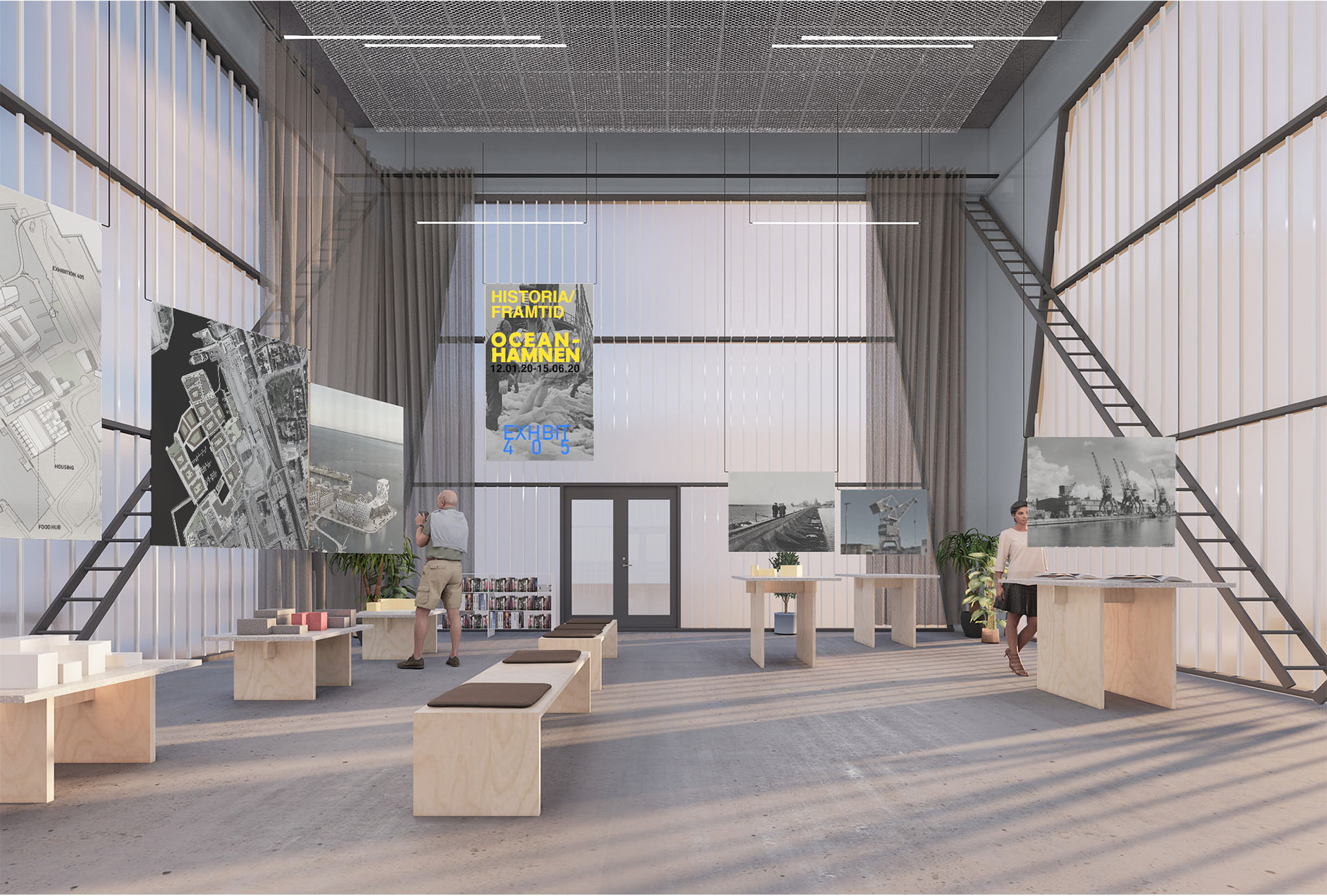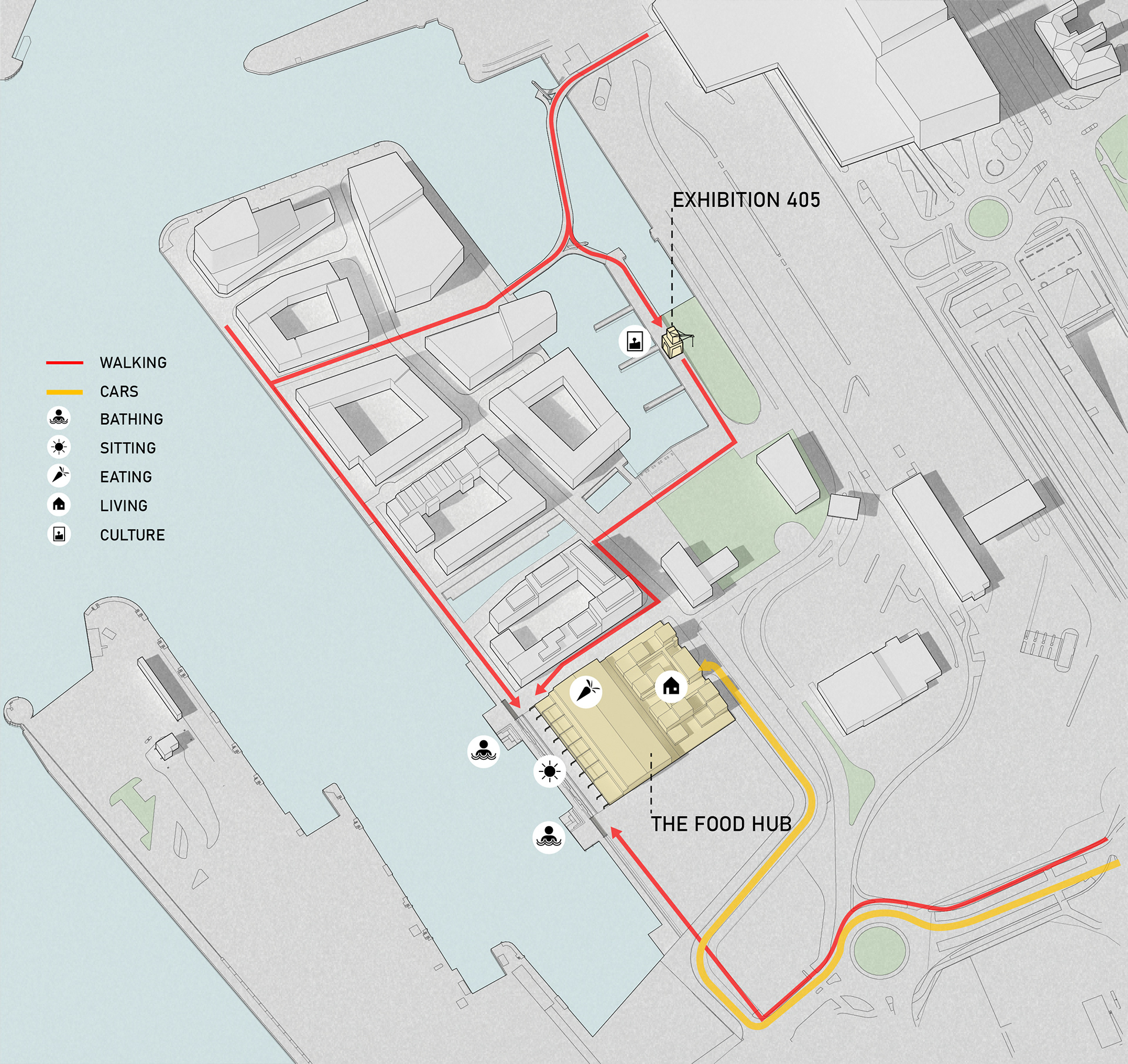 SUSTAINABILITY.
Water has become a very urgent issue at many places on earth as a result  of global warming, including Sweden. A way of handling this situation in the project is by collecting water from all the roofs on the housing complex and magasin 405. The water is stored in tanks and used for dish washing, laundering, toilets as well as watering plants. The tanks are also connected to the municipal water supply for backup during dry seasons. This solution also works as a rainwater delay for the sometimes overloaded municipal systems during heavy rain.  
Electricity is a growing demand. Our self-sufficient village will be powered by solar panels placed on the roof of Magasin 405. Energy efficient housing will lower the need for electricity. Salt-water and cotton battery will be able to store the electricity in a sustainable way. 
Heat exchangers are used to heat up the building during winter and cool it down during summer. It's a very efficient system when combined with solar panels that will lower the use of external energy sources.
Carbon dioxide is warming our planet faster than expected. Our houses are built in wood to reduce the impact on the planet. Wood is one of Sweden's biggest resource and creates a small carbon dioxide effect during production. The use of Swedish wood also reduces building material transports from other countries.